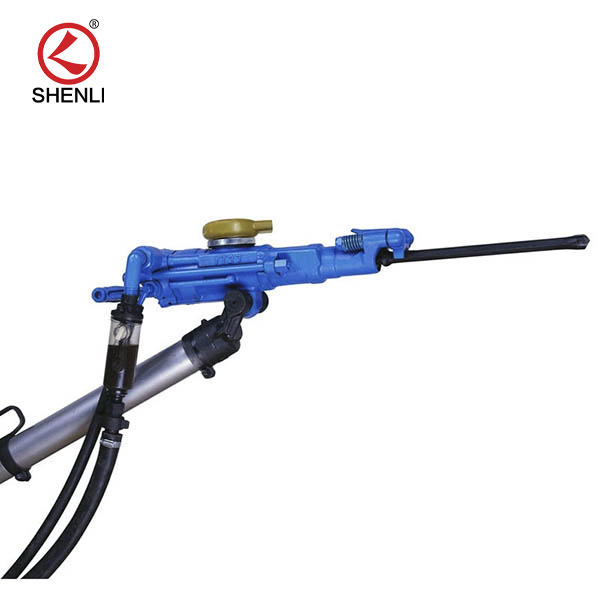 YT28 rock drill within the use for a long time plus wrong renovation, There will be a variety of faults. In rock drilling work, rock drill failure, each group of workers isn't inclined to seem, which no longer only prolongs the work period but may also carry a whole lot of hassle, so the use of the rock drill to extra maintained. The subsequent YT28 rock drill is an example to in short apprehend why it is not smooth to begin the work as a result of
YT28 rock drill adopts air-water linkage, air leg may be quickly lowered back, air pressure adjustment, and different institutions. The control management is centralized. The handle frame and the mechanisms are novel and easy to perform. Equipped with a muffler cover can efficiently reduce the noise and exchange the route of exhaust at will, Improving working conditions. Compared with the equal form of rock drills: they're lightweight, have low noise, high performance, and desirable financial impact. It is widely used in mining, roadway digging, and various rock drilling operations. It's far a vital tool in metallurgy, coal, railroad, transportation, water conservancy, infrastructure, and countrywide defense rock works.
If the YT28 rock drill isn't always easy to begin, please consult with the following reasons and troubleshooting strategies.
1, the lubricating oil is just too sticky, too much.
Exclusion approach: 1, update the lubricating oil according to the rules. 2, the oil injector is nicely adjusted.
2, the water needle is removed.
Exclusion method: update the water needle.
The above is why the YT28 rock drill isn't always easy to begin, I'm hoping it'll be helpful to users and feature a more secure working surrounding in operation.
---
Post time: 2022-10-27