Rock Drill Button Bit
Product introduction:
Taper bits, especially Tapered button bits are the most popular tapered drill bits with a wide selection of head diameters from 26mm to 48mm. With carbide buttons cold pressed on the bit skirts, tapered button bits have a good drilling performance and are excellent in longevity.
We manufacture various tapered button bits in different degrees as below:
Bit diameter: 26mm to 60mm;
Tapered degree: 4°, 6°, 7°, 11°, 12°;
Shank sizes: Hex. 19mm, Hex, 22mm and Hex. 25mm;
Carbide type: Chisel type, Cross type, Button type.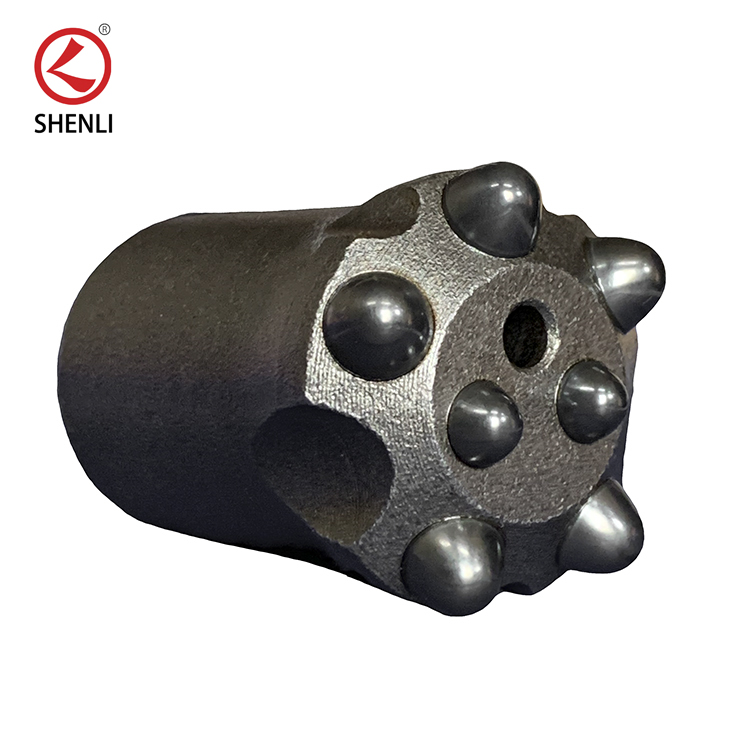 button bits
Tapered Rock Drill Bits : It's suitable for H22mm and H25mm taper rock drill rods use. It have three taper degree: 7°, 11°, 12°.
It's widely used for hard rock(f=8 18) drilling use. Taper button bits is the best sales product.
Perfect designs, tungsten carbide and skirt steel , provides leading strength and penetration rates for more
productivity, excellent straightness and hole clean quality, get max drilling performance to save up fuel cost rate.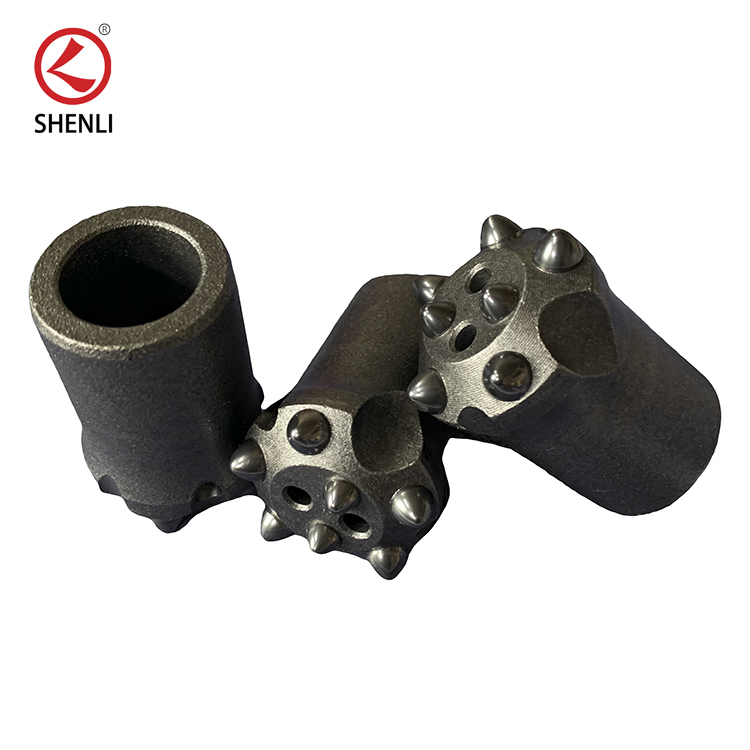 Technical parameters:
DIAMETER
BUTTON
Flushing
Carbide
Face
MM
IN
GAUGE NO/ SIZE
FRONT NO/ SIZE
HOLE
PROFILE
PROFILE
32
1 1/4″
5×7
2×7
IF1G
Parabolic
Flat
36
1 13/32″
5×8
2×7
2F1G
Conical
Flat
38
1 1/2″
5×9
2×7
1F2G
Conical
Flat
38
1 1/2″
5×9
2×7
2F 1G
Conical
Flat
38
1 1/2″
5×9
2×7
2F1G
Conical
Flat
40
1 9/16″
5×9
2×8
2F 1G
Conical
Flat
41
1 5/8″
5×9
2×8
2F1G
Conical
Flat
41
1 5/8″
5×9
2×8
2F 1G
Parabolic
Flat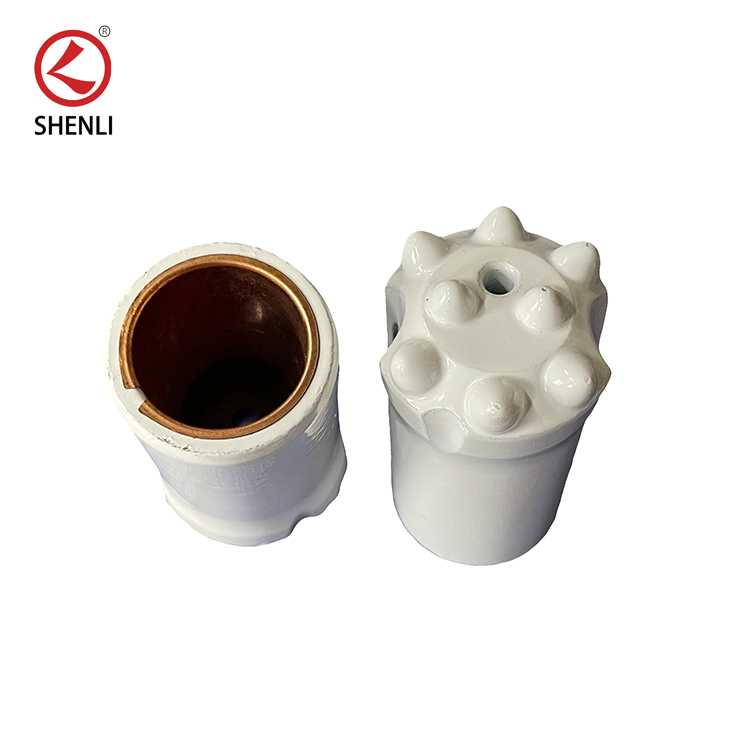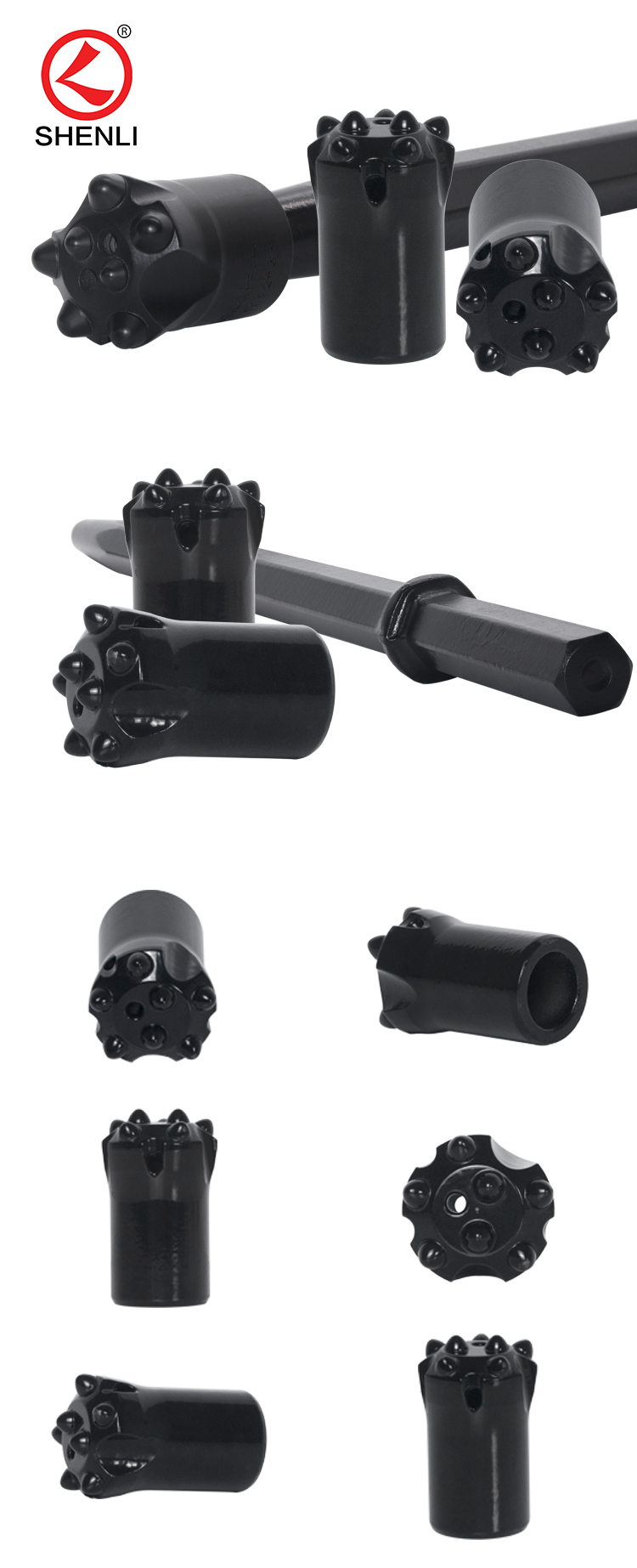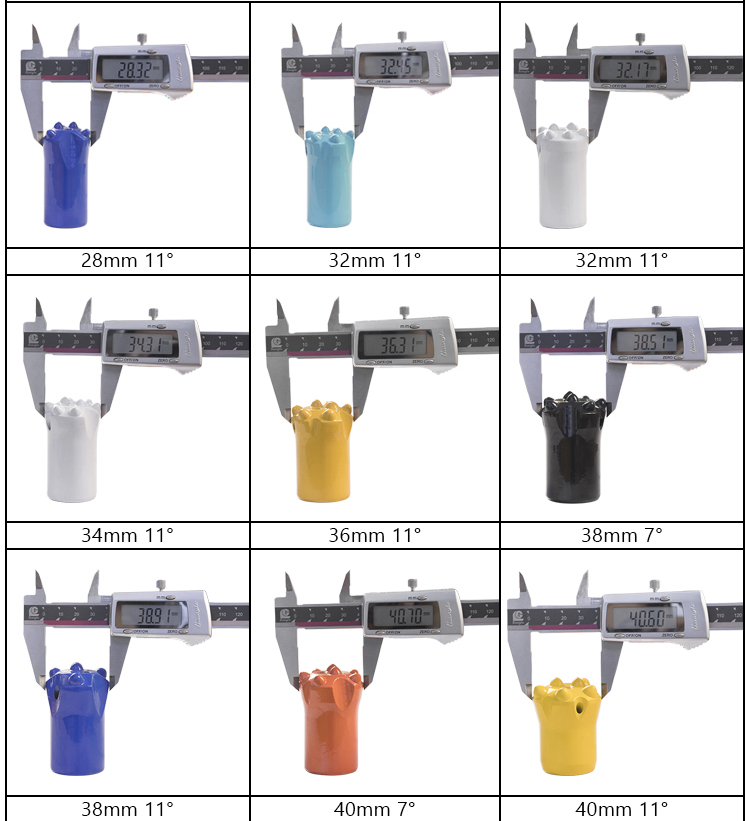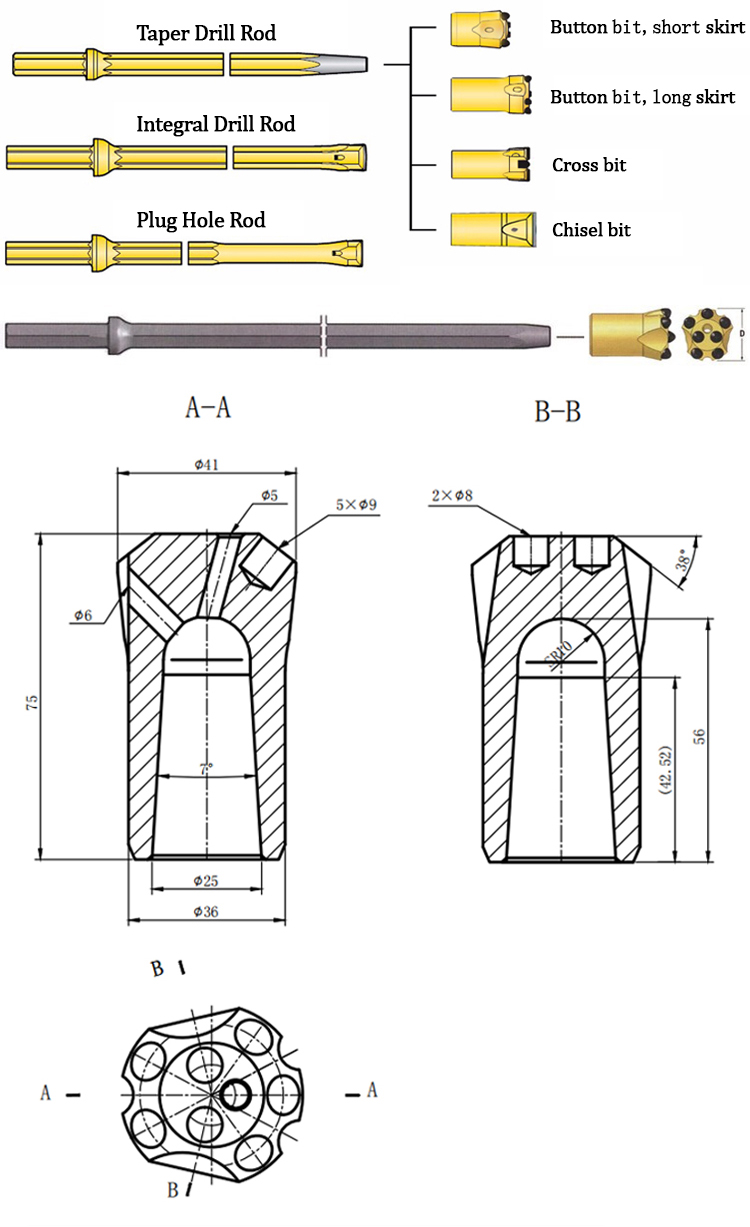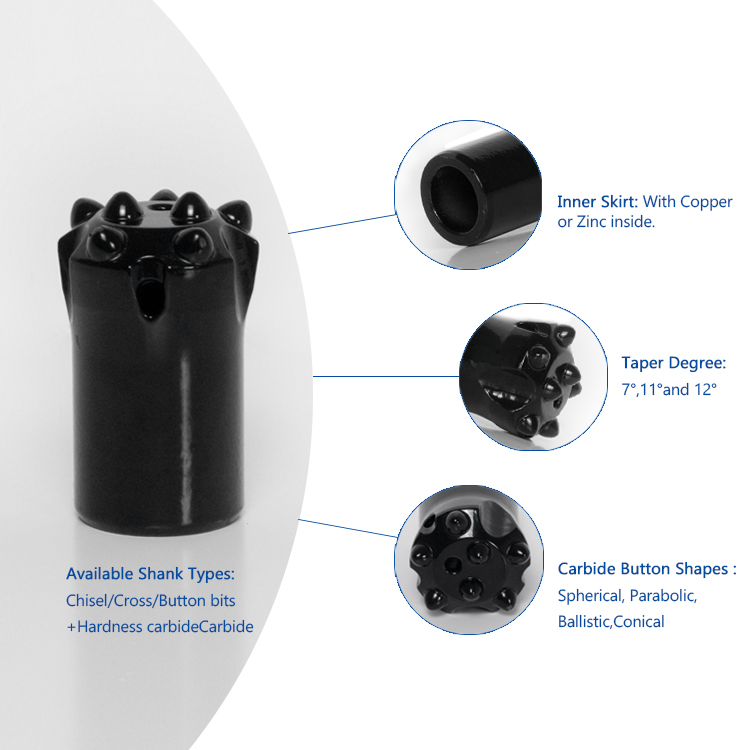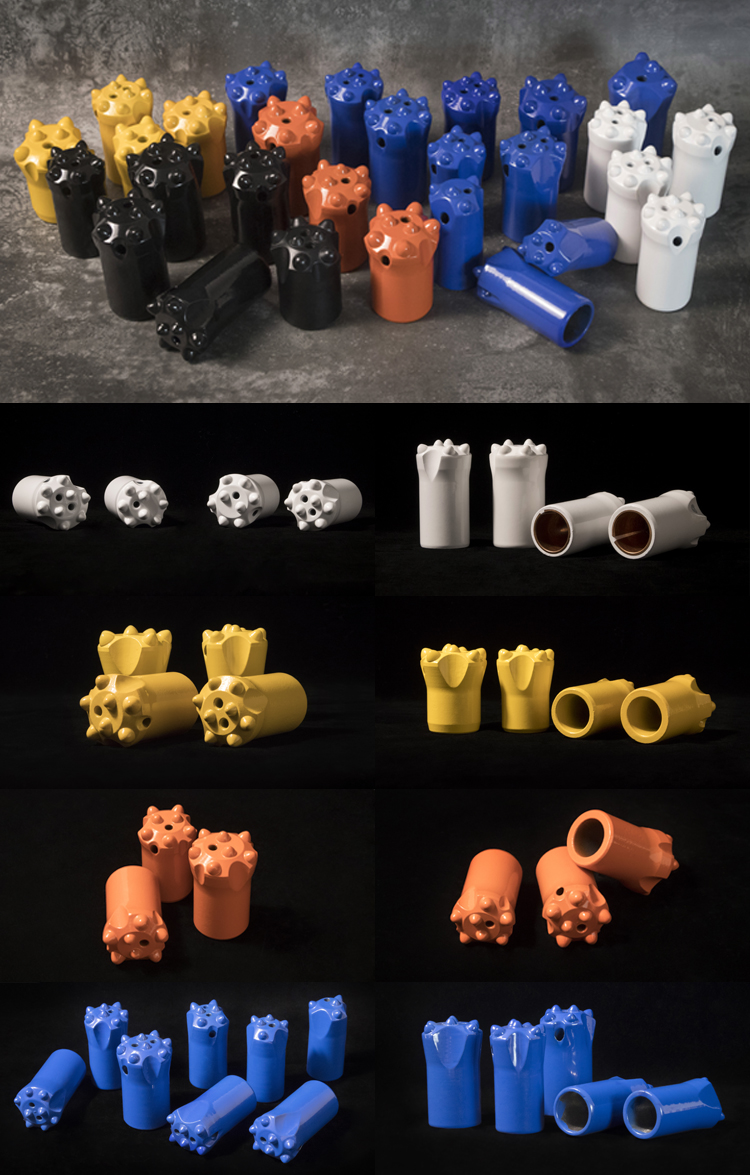 Our cutting-edge tapered button bits are just what you need when it comes to efficient drilling tools. With their supreme ability to work on varied surfaces and unbeatable performance quality – these tapered bits have made a name for themselves as an indispensable item on every drilling expert's list.
Furthermore, we offer multiple size options ranging from head diameter size between 26mm up to 48 mm! The components' strength does not go unnoticed either; as we use cold-pressed carbide buttons onto the bit skirts providing maximum durability while ensuring operational efficiency. Our company is dedicated to cater varying customer demand hence why we offer different degrees of taper:4° ,6° ,7° ,11° ,and12 ° respectively accommodating the diversified angle demands required by all clients.Our shank sizes including Hexagonal variants of size19 mm upto25 mm assure devices practicality fit into various rigs and drilling machines intended for use in different situations. Our team understands that different surfaces require unique types of carbide bits for optimal performance during drilling operations.
Thats why we offer an array of chisel type carbides aimed at meeting all customer requirements in this regard. Whether its challenging rock surfaces or other tough conditions involved in drilling our chisel carbide bits possess the versatility necessary to deliver consistent results every time. As far as durability is concerned our tapered button bits stand out not only for their strength but also their speed when used in drilling applications. We pride ourselves on developing products designed specifically to maximize efficiency with minimal downtime due to constant maintenance needs.
As experienced manufacturers specializing in producing high quality tapered button bits the market leading supplier available today is us. The longevity provided by our products is unparalleled thanks to features like supreme durability combined with exceptional performance while maintaining versatility throughout all operations.
So if you're seeking trustworthy solutions capable of delivering reliable performance alongside trouble free operation — make the smart choice today by choosing our tapered button bits. We are confident our chisel carbide bits coupled with the range of degrees we offer will provide a one stop solution for all of your drilling needs.
---
---