YT29A Air Leg Pneumatic Rock Drill
Short Description:
YT29A air-legged rock drills are heavy-duty push-leg (air-legged) rock drills with low energy consumption, which are more suitable for drilling horizontal or inclined holes in medium-hard and hard (f=8-18) rocks, as well as drilling anchor holes upwards or downwards. It can be used with FT160A (or FT160B, 160C) according to the size of the roadway section and operating conditions, and can also be used with the drill truck or drill frame for dry or wet rock drilling. In addition, our company provides all YT29A rock drill parts as follows: piston, rotating sleeve, spiral rod, brass nut, valve set, ratchet, tower spring, manipulation valve, shank body, cylinder body, main body, brazing sleeve, brazing card, brazing card bolt, oiler, water injection valve body, fastening pin, ratchet pawl, air pipe nut, air pipe elbow, water needle, etc.
Product Features:
1、More output power
2、Rock drilling speed is faster
3、Super strong lubrication system to ensure the long time operation of movement parts
4、The whole machine has optimized design, the impact energy and impact frequency have reached an excellent match, it is your ideal rock drilling tool.
5、Gas and water linkage, quick return of the gas leg, air pressure adjustment and other institutions.
6、Control handle centralized with Back head, the mechanism is novel and convenient to operate, the muffler cover can effectively reduce the noise and change the direction of discharge at will to improve the working conditions in the field.Field operating conditions
Application areas:
Mining, traffic, tunnels, water conservancy construction, quarries and other work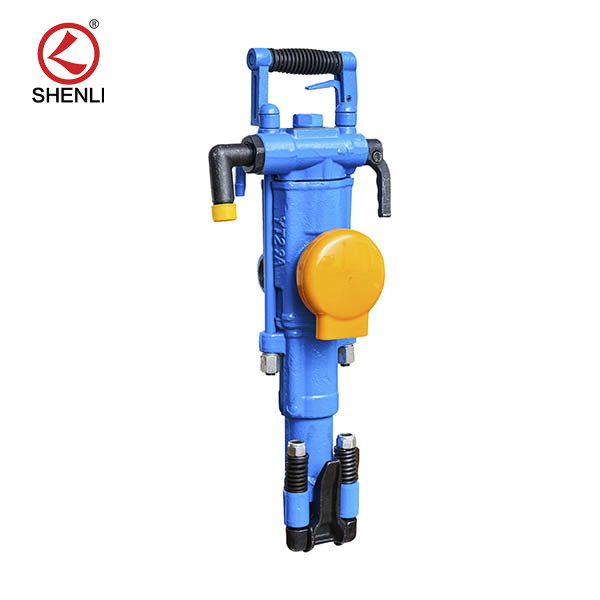 Technical parameters:
| | | | | | |
| --- | --- | --- | --- | --- | --- |
| Model | YT28 | YT27 | YT29A | YT24C | TY24 |
| Weight | 26kgs | 27kgs | 26.5kgs | 24kgs | 24kgs |
| Length | 661mm | 668mm | 659mm | 628mm | 678mm |
| Air pressure | 0.4-0.63Mpa | 0.4-0.63Mpa | 0.4-0.63Mpa | 0.4-0.63Mpa | 0.4-0.63Mpa |
| Impact frequency | ≧37HZ | ≧39HZ | ≧39HZ | ≧37HZ | ≧31HZ |
| Air consumption | ≦81L/s | ≦86L/s | ≦88L/s | ≦80L/s | ≦67L/s |
| Impact energy | ≧70J | ≧75J | ≧78J | ≧65J | ≧65J |
| Cylinder*stroke | 80mm*60mm | 80mm*60mm | 82mm*60mm | 76mm*60mm | 70mm*70mm |
| Air pipe diameter | 25mm | 19mm | 25mm | 25mm | 19mm |
| Shank dimension | 22*108mm | 22*108mm | 22*108mm | 22*108mm | 22*108mm |
| Drilling depth | 5m | 5m | 5m | 5m | 5m |
| Bit diameter | 34-42mm | 34-45mm | 34-45mm | 34-42mm | 34-42mm |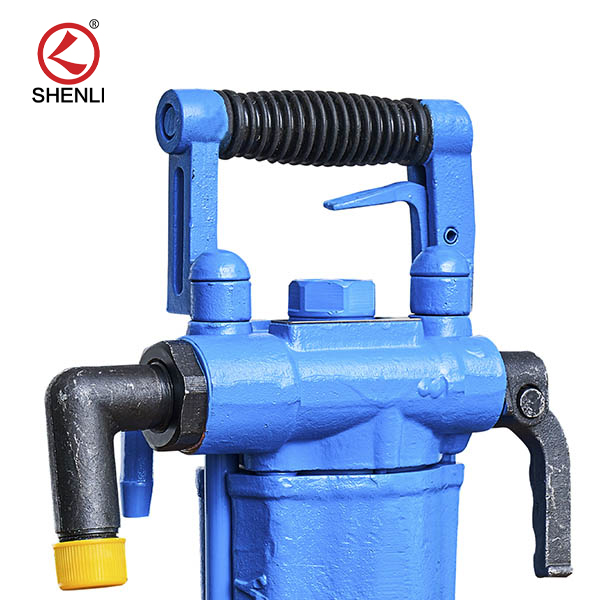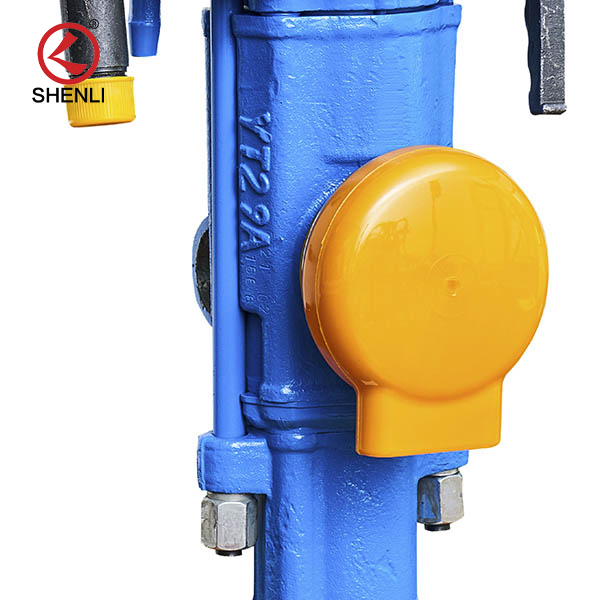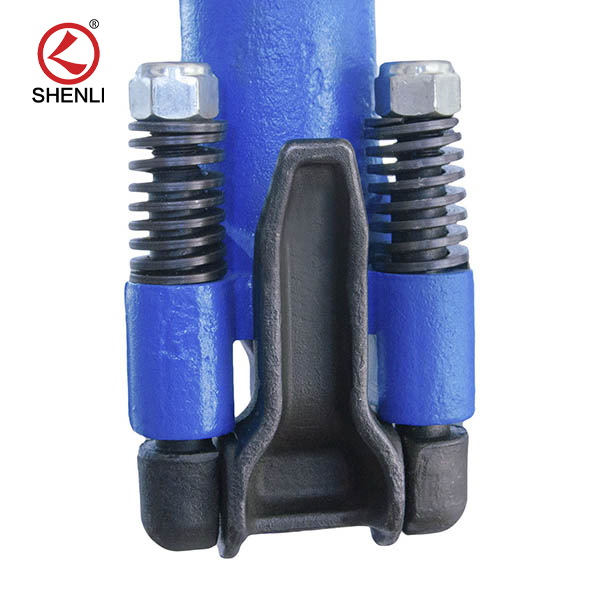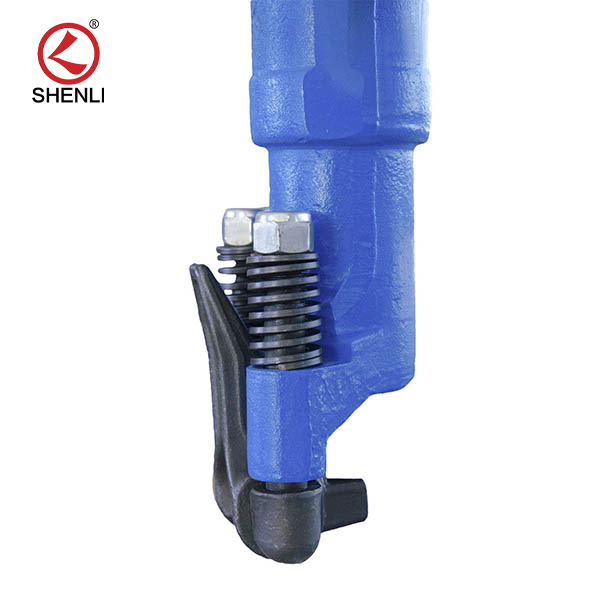 We are thrilled to introduce our breakthrough addition into the world of rock drilling: the supercharged rock drilling tool. Boasting enhanced output power along with swifter rock-drilling velocity – this innovative device promises optimized drills along with superior productivity levels.
Our product entails a highly potent lubrication system capable of providing long-term operation feasibility for movement parts making it not only reliable but also very durable in performance. The entire machinery has been designed meticulously for outstanding impact energy coupled with frequency which ensures a seamless and extremely efficient drill experience every time! Its unique feature lies within its impeccable gas-water linkage system that offers swift return of gas leg along with air-pressure adjustment – allowing unparalleled ease-of-use never seen before in a similar product range! Furthermore, we have centralized its control handle with its back head which makes operating this novel mechanism even more convenient! Finally, our muffler ensures the least possible noise during the drilling process offering maximum comfort.
Being highly dependable, exceptionally durable, and extremely efficient – our rock drilling tool promises to be an ideal choice for all your drilling needs. The construction industry pro or the homeowner immersed in DIY projects – whoever you may be we have just the product to suit your every drilling need. Our product exhibits unparalleled versatility making it capable of handling any task with ease. Why not invest in our tool today?
Not only will it save precious time and energy; but also yield unmatched performance benefits that set us apart from other options on the market. Don't take our word for it though: try out our supercharged rock drilling tool now engineered with utmost care and designed with optimization at its core – we promise you won't be disappointed!
---
Previous:
YT28 Pusher Leg Rock Drill
---